The UK – England & Scotland
The UK – England and Scotland
England
Day 1
     Welcome to England, home of afternoon tea, Beefeaters, Stonehenge, and King Arthur!  http://www.enjoyengland.com/    We arrived very early at Heathrow and had a full English breakfast!  If you never had one, be warned:  it's huge!  Eggs, toast, grilled mushrooms and tomatoes, baked beans, sausage, and English bacon.  We didn't eat again until late afternoon.  Our hotel, The Hogarth, was in Kensington.   It is an old building with lots of late 1800s charm.   Kensington and neighboring Chelsea are easy walking!  We enjoyed the gardens and large homes, each with a garden spot of its own.  Sometimes it was only a planter, but flowers were everywhere.  The weather was warm and sunny, unusual for June.  We treasured the special favor from Mother Nature.
     We took the tube to the Tower.   The tube is the subway system, and is extremely efficient and easy to use.    "Mind the Gap!"  is a phrase we quickly knew!  http://www.visitlondon.com/travel/getting_around/tube
     The Tower of London is full of English history, ghosts, and legends and the home of the Crown Jewels.  This is where Anne Boleyn lost her head.  The legend of the ravens claims that as long as the birds protect the Tower, England will remain strong.  Could clipping the wings help the legend be true?  The Tower is more than a tower, more than a castle.  It's a city that has been a prison, arsenal and zoo.  The bedrooms are exquisite, with huge stone fireplaces!  The chapel has intricately designed stained glass windows!  We saw the Traitor's Gate, entered by boat.  The dungeon has the torture device, like the rack, used centuries ago.  http://www.hrp.org.uk/  We spent the afternoon wandering there!  For dinner, we chose the Blackbird Pub.   It's a beautiful historic building in Earl's Court.   The food is hearty and delicious, and local beers are on tap.  http://www.beerintheevening.com/pubs/s/74/742/Blackbird/Earls_Court
Day 2
We took the subway, aka The Underground, aka The Tube, to Buckingham Palace to watch the changing of the Guard.  Impressive!  This has been a historical sight for generations.    The guards in their tall beaver hats and bright red uniforms are a striking sight!  The statues across from the palace are superb.    A stroll through St. James Park brought us to a concession where we tried a shandy:  a mixture of beer and lemonade.  Interesting!  The River Walk of London follows the Thames, past the Cleopatra Monument.  A river cruise of London gave us a different perspective of the city, while allowing us to see The Globe Theater, of Shakespeare fame. The original theater burned down, but this one has been recreated to look exactly like the first.  We passed the Westminster Abbey, Big Ben, and many other landmarks.   The London Eye, the world's largest Ferris Wheel, gave us a new perspective of London, as we reached the height of 443 feet or 135 metres.   http://www.londoneye.com/  The clear enclosure enabled us to have a 360 degree view! 
     A walk across the bridge brought us to Big Ben and Westminster Abbey, http://www.frommers.com/destinations/london/A24095.html  an imposing structure!   There are spectacular stained glass windows, altars, and tombs of the very famous in the Abbey after absorbing all the history we could; we started back for our hotel.  Passing by a Tudoresque pub called "Albert's", we decided English ale might taste good.  Supper was at The King's Head.  While we were told that pub fare is mediocre, we've found it to be delicious!  Finally, back at the hotel, we called it a night!
 Day 3
     The "Trooping of the Colours" is a grand pageant!  The street in front of Buckingham Palace is barricaded from the crowd.  Calvary, infantry, and band parade through in dazzling garb.  A carriage comes from the Palace and rushes to the Parliament Building, to represent the queen.  It's a spectacle not to be missed!  This ceremony marks the queen's official birthday. 
     An interesting note was a public bathroom.   After being used, it automatically cleans the whole stall before the next person uses it!  Soap and water spray everything and a fan dries it.
     The Museum of London is an amazing place!  Allow more than the one day we did!  There are rooms dedicated to Mesopotamia, Greece, Egypt, and Rome.  Huge statues that are thousands of years old left us in awe of the ancient civilizations.   Carved hieroglyphics from Egypt, Grecian columns, and Roman statues are amazing!  England's history from prehistoric times is traced through art, money, weapons, porcelain, clothing and more.   There's a huge museum store for shopping, too.   http://www.museumoflondon.org.uk/English/
     We were exhausted at the end of the day, and among the last to leave the museum.  After a meal at the King's Head, we were in for the night.
 Day 4
     To say Hyde Park   http://www.royalparks.org.uk/parks/hyde_park/  and Kensington Gardens
http://www.royalparks.org.uk/parks/kensington_gardens/   are both big and beautiful is to understate!  Hyde Park, at 350 acres, is the largest green space in London!  Henry VIII began the park and it has been a work in progress ever since.   Cycling, swimming, tennis, cricket, and rugby were some of the sports people were enjoying.   We saw the Diana Memorial Fountain, remembering Princess Diana.  Roses were blooming everywhere!   So were delphiniums, and peonies. Speaker's Corner, where anyone can publically speak about anything, is here.   Birds, squirrels and butterflies live here.  We could wander here for days!   Kensington Gardens, once part of Hyde Park, has the Peter Pan statue, Diana Playground, and Albert Memorial.  Flowers are everywhere.   The Italian Gardens include a water garden that is incredible!    When William and Mary moved into Kensington Palace in 1689, they separated from Hyde Park. Many people were enjoying picnics, or reading in the sun.  On the pond Canadian Geese and swans were floating.  We saw Frisbee players, moms playing with toddlers, and joggers.  The weather has been warm and sunny, which we are constantly being told is unusual.  June is typically cool and damp.  We have loved London!  It's time to move on to Stonehenge!
     About 85 miles from London is the 5,000 year old Stonehenge.  It's considered by many to be the most important prehistoric site in England.   Its origins are mysterious.   It may be a calendar or have been used as part of religious services.  The stones were moved hundreds of miles, over a period of hundreds of years.   Stonehenge rises up from the level ground majestically so it can be seen from far away.  Disappointingly, a fence surrounds the monoliths so visitors can't touch the stones anymore.  There are other monuments, but none quite like this.  We spent a lot of time there, admiring and wondering.   http://www.stonehenge.co.uk/       We drove on to the town of Corsham, to the Heatherly B and B.  Our room is out of a storybook, with Wedgewood fireplace, wrought iron hinges on the doors, and a claw foot tub.  Excellent!
Day 5
     Destination, Bath!  On the way, we passed many modern windmills.  This city has Roman history, the arts, and church history.  Our first visit was to the Roman Baths.  Touring the Baths, we realize how advanced the engineering was!  Heated baths in ancient times!    Romans heated bricks and the bricks heated the water.  Amazing!  Bathing in those times was a social event.  People sat in the water drinking wine, snacking, and socializing.  Slaves plucked the underarm hair from women.  Wonderful art remains in mosaic floors, statues, and pediments.  http://www.romanbaths.co.uk/   streets are narrow and cobbled.   The Abbey was originally built in the early Middle Ages, and has stunning stained glass, the Vault Museum, soaring archways, and beautiful artworks.  Inside, it is breathtaking!   Under the floor are graves, with markers.  Many are interred in the walls.  There are some very fine monuments as well.  The wooden pews and pulpit are beautifully carved.  The museum has more valuable art and artifacts.   Being there was a memorable experience.  http://www.bathabbey.org/    Jane Austen, the famous writer, lived here in the 19th century.  The Jane Austen Centre, where she lived, has permanent displays.  The gift shop has a large selection of Regency style gifts. http://www.janeausten.co.uk/   The Sally Lunn Kitchen Museum is here, too.  It's the oldest house in Bath, dating to Roman times.  The kitchen is the kitchen where Sally made her now famous Bath buns.  The heavy cast iron cookware, stone walls, and wood burning oven took us back in time.   A restaurant is open for breakfast, lunch, tea, and dinner.  We had tea, with hot Sally Lunn buns and wonderful clotted cream.  Delicious!  http://www.sallylunns.co.uk/home,intro.htm   Bath is an all day experience! 
Day 6
     Driving here is different than driving in the U.S.  We had to get used to driving on the other side of the road, and steering from the other side of the car!  It's a little tricky, but we are getting the hang of it.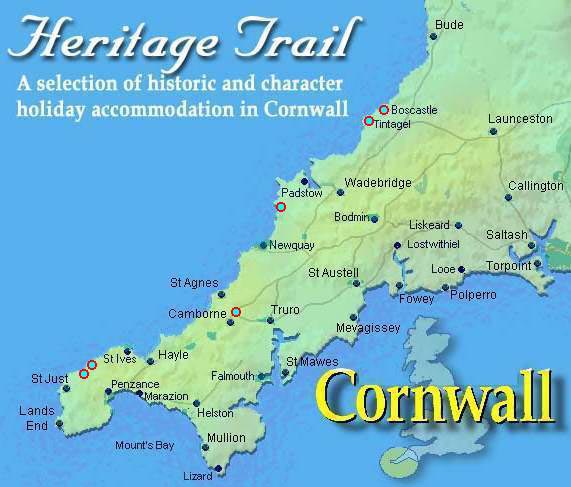 Today we visited Cornwall, of King Arthur and Daphne du Maurier fame.  On the way, we stopped in Castle Combe in Wiltshire, called "the prettiest village in England."  It was like a fairy tale village!  It's very small, but worth the time to look around.  It just might be the prettiest village!  It's only about 12 miles from Bath.  The houses are typical Cotswold, with stone walls and stone tile roofs. There are many half-timber Tudor style homes.   Flower gardens are everywhere. Park the car and walk around.   There's a museum, pub, and a very appealing walk along the river.  http://www.castle-combe.com/ 
     Tintagel is the birthplace of the legendary King Arthur.  It is still being excavated, and it is already magnificent.  Situated on the edge of a high, rugged bluff, it overlooks the sea and Merlin's Cave.  The climb is long, but a good investment!  The views are dramatic!  We went exploring, finding the well, the walls, castle gates, and other ruins.  There are stairs and small rooms tucked into the hills.  Stone floors have been uncovered.  What a castle it must have been!  The castle is perched on the cliff, so observers could see for miles.  Markers indicate what was once there, as we walked through.  This is a magical place!   http://www.tintagelweb.co.uk/  Here are beaches, too, but the water is very cold.  We tried to go wading, but didn't stay in long!    We did search some caves.  Villages have lots of shopping, restaurants, hotels, and pubs.  The English Heritage pass enabled us to visit many historic places, and we think well worth the cost.  The Old Post Office is also on the National Trust.  We enjoyed the tour.  The building is an old stone one, with lovely gardens.    Allow at least a few hours.  From Tintagel, we drove to the charming town of Launceston for lunch, http://www.visitlaunceston.co.uk/  and then to Truro, staying at Apple Tree Cottage, a lovely bed and breakfast with the prettiest gardens.  http://truro.cornwall.net/
Day 7
     Have you heard of the Eden Project?  At first glance, it looks like giant golf balls or spaceships, in contrast to the old Cornwall landscape!  It is an awe inspiring collection of full gardens and biomes.  What's a biome?  According to the Eden Project:   A biome is a climatically and geographically defined area of ecologically similar communities of plants, animals, and soil organisms, often referred to as ecosystems.  Biomes are defined based on factors such as plant structures (such as trees, shrubs, and grasses), leaf types (such as broadleaf and needle leaf), plant spacing (forest, woodland, savannah), and climate.  We walked through a rainforest in England, with a banana plantation and cacao trees!  We walked through a Mediterranean biome, with olive trees, California poppies, chaparral, and aloe. We walked through the outdoor gardens, blooming with roses, lilies, sweet peas, and dahlias.  Huge sculptures dot the landscape and decorate the indoor gardens. There are even small huts inside, arranged to look like people are living here.  This is a one of a kind marvel, not to be missed!  http://www.edenproject.com/come-and-visit/whats-here/index.php
     We were able to visit St. Mawes Castle, a renaissance structure.  This once belonged to King Henry VIII, and was built to thwart invasion from France or Spain.  Cannons were lined up as though protecting the well preserved castle still.  It was very entertaining to be able to look out of the tiny crenellations (or openings in the walls for archers to shoot through.)  We liked walking on the parapets.   http://www.english-heritage.org.uk/daysout/properties/st-mawes-castle/
     We decided to explore the countryside a little, and ended up at an old thatched cottage turned tea room on the Falmouth River.  The gardens had tables set up, too.  We opted for the garden and cream tea.  Cream tea is a pot of tea with fresh scones, clotted cream, and strawberry jam.   Clotted cream is a sweet cream that has a buttery consistency.  We could eat the clotted cream by the bowlful!  After tea, we continued our exploration and discovered the village of St. Agnes and St. Agnes Beach.  The water was very cold, but there were some brave young surfers in wetsuits!  The Cornish coastline is very rocky, reminiscent of Maine, in the US.    The village is old and enchanting.    There are captivating views.   We are so glad we found St. Agnes!  http://www.st-agnes.com/  Back in Truro we decided that the tea was so filling, we settled on a bowl of delicious soup at the Norway Inn.  http://www.norwayinn.co.uk/
Day 8
     We left Cornwall, with wonderful memories, and a hope to return.  Sudbury Hall is a luxurious 17th century country home.  We bought a Great British Heritage Pass in London, and have been very happy with the value.  The house, part of The National Trust, is featured in the BBC series Pride and Prejudice.   The house has numerous windows.   We very much enjoyed touring the house and gardens, and marveled at the standard of living for wealthy families in the 17th and 18th century!  Tea in the garden was a glimpse of that lifestyle.  http://www.nationaltrust.org.uk/main/w-vh/w-visits/w-findaplace/w-sudburyhall/
     We are staying in the town of Ashbourne, in the Peak District.  This is one of England's historic towns.  It's the home of Shrovetide Football, an annual moving brawl.  We found a charming market area for shopping and eating and we could walk everywhere.  There are many beautiful homes, churches, and parks.  http://www.ashbourne-town.com/frame1.html  The Peak District has hills, mountains, lakes and rivers, and the moors.  Stunning scenery!  Hiking and cycling are two favorite pastimes.  http://www.visitpeakdistrict.com/default.aspx
Day 9
     A full English breakfast of eggs, sausage, bacon, mushrooms, tomatoes, and beans kept us fortified most of the day!  We explored the charming town of Buxton, a bustling place with lots of people walking about.   It calls itself the Cultural Capitol of the Peak District.  http://www.visitbuxton.co.uk/  Continuing on, we visited the stately home, Chatsworth, begun in the 16th century.  The words opulent and palatial come to mind.  Chatsworth is the home of the Duke and Duchess of Devonshire.   The house contains family portraits and other artworks, crystal chandeliers, marble, and furniture.   There are parquet floors, gilded mirrors, murals, and carved railings.  We were allowed to sit in "the master's" chair in the library.   We especially were drawn to the Duke and Duchess chairs!   A center courtyard has a fountain and impressive dog sculptures! Mary, Queen of Scots, lived here as a prisoner.  The gardens are fantastic!  Roses, hollyhocks, lupines, peonies, and scores of other flowers are blazes of color!  Pools, fountains, and cascades, sculptures, vases, and trees are part of the centuries old gardens.  A cascade at the top of the hill flows level over level from the stone folly.  Statuary lines the way.  There are miles of paths.  A pioneering greenhouse allowed flowers all year!  Topiaries whimsically depict a dining room. We could have spent days there!    We used our British Heritage Pass.  http://www.chatsworth.org/
    As we drove along, we passed herds of sheep and cattle grazing.  Another of the beautiful homes is Haddon Hall, a medieval castle!  We went there next!  Begun in the 12th century and finished in the 16th, the house has courtyards, chapel, banquet hall, stables: everything we expected in a real castle.  The walls are ornately carved wood, ceilings are sculpted.   It's stunning!  The gardens are full of roses, creating a most beautiful sight.  The movie Jane Eyre was filmed here, as well as parts of The Princess Bride.  Some of the Jane Eyre costumes are displayed.  This has been a wonderful day!   http://www.haddonhall.co.uk/  Our accent is noticed right away here, much more than in London and Cornwall.
 Day 10
    This is the day for stately homes!  And more history!   Remember Robin Hood and the Sheriff of Nottingham?  Today we explored Sherwood Forest, the home of Robin Hood and his Merry Men!  It's a magical place!  There is a museum dedicated to the legend of Robin Hood.  The famous 800 year old Major Oak is just a few minutes' walk from the Visitor's Center.  Legend says that Robin and his men met under this tree.   This is a preserve; so many different kinds of plants thrive here. The park is in Nottinghamshire.    Admission is free!  http://www.nottinghamshire.gov.uk/home/leisure/countryparks/sherwoodforestcp.htm
     Another of the National Trust homes is Hardwick Hall, actually two homes.  Old Hall was built in the 1400s.  When Elizabeth Shrewsbury wanted to build a new home in the 1500s, she just dismantled Old Hall and used the materials for the new house.  It's a shell now.  Hardwick Hall is a huge country estate.  The house has lots of windows, giving it airiness unusual in Renaissance homes.  Bess was a powerful woman, and her initials "ES" are found throughout the house.  The house has valuable tapestries, paintings, and artifacts from the Renaissance period.  It's a most beautiful home!  The gardens are, too!    Miller's pond is a very pleasant walk, and the woods and meadow offer scenic picnic spots.   We especially enjoyed the rose garden and the maze.  Walking through these homes and grounds gives us a sense of adventure – walking where nobility, servants, and others of the past walked and lived.  If the walls could talk, what tales they would tell!  The stone steps are worn where people trod for centuries.  The old kitchen houses the restaurant, where we took pleasure in yet another cream tea.  http://www.derbyshireuk.net/hardwick_hall.html
Day 11
     Are you ready for another mansion?  Kedleston is a more modern estate, built in the 1760s, and still used as a family home.  Lavishly decorated, the house has gold trim on the walls, gold on the sofas, pink alabaster columns, elaborately carved furniture, and priceless paintings.  The main part of the house was designed for entertaining. Their church, with stained glass windows and a cemetery, is behind the house.   The grounds are sumptuous, with forest, roses, azaleas, rhododendrons, lakes, and lots of paths to work off some of the cream tea!   It's a must see if you are interested in stately homes. http://www.derbyshireuk.net/kedleston_hall.html
    On the return trip, we drove through a little village where all the shops were closed.  We learned that on Saturdays, stores close as early as 12:30, and everyone goes home.  We did find a little antique shop that had some horse brasses and a Wedgewood vase for a very reasonable price.  We were quite happy with our finds!  Restaurants close early, too, so we were lucky to get into Smith's Pub for supper.  There are several local brews on tap!  http://www.fancyapint.com/pubs/pub4546.php
Day 12
The Lake District is lovely, with pristine lakes, busy little villages, and high peaks.   http://www.lakedistrict.gov.uk/index/visiting/brockhole.htm  Swimming, picnicking, boating, cycling, sightseeing, and hiking are some of the activities one can enjoy. One of our stops was the poet William Wadsworth's home, Dove Cottage.  http://www.wordsworth.org.uk/
In Roman times, the emperor Hadrian built a wall to protect Roman lands from the"barbaric" Picts.  Along the wall were forts and towns.  Many think that Hadrian's Wall is just a wall.  It was much higher than the wall we see today.  Why?  After the Roman occupation, people who needed stones for homes, barns, fences, etc, just took what they needed from the old walls and building.  Also, after 2,000 years, ground builds up, and the stones seem to sink into the earth.  Walking Hadrian's Wall was a thrill!  Think of the history!  Roman, Saxons, Angles, Picts, and others who walked here! What did the Roman soldiers think about while they were on guard?   What were the people like who lived in the towns?     The wall extends 73 miles, or 117 kilometers.  It was once 16-20 feet tall.  This is a National Trust site    http://www.hadrians-wall.org/   In Birdoswald is the ruin of a Roman fort.  Pictures and graphs recreate how the fort looked 2,000 years ago.   We traced the foundations of buildings and roads.   A statue of Emperor Hadrian stands in the center of the town of Brampton.  http://www.english-heritage.org.uk/daysout/properties/birdoswald-roman-fort-hadrians-wall/
     Also in the area are the ruins of a priory built with stones from Hadrian's Wall and a church and graveyard dissolved by Henry VIII during his reformation.  In the cemetery was an infant's headstone with a baby's likeness.  It was poignant.  Children died so often then. 
      We ate our dinner at Blacksmiths Arms, the only business in the tiny village of Naburn!  http://blacksmithsarmsnaburn.co.uk/   The food was excellent, filling, and reasonably priced!  We wondered about pub fare, because we had heard it was mediocre, but found it to be delicious!  We had pheasant, steaks, seafood, and dessert that were first rate!  We were told that many of the culinary school graduates took jobs in the pubs to hone their skills, thus giving customers a first rate dining experience!
      Like many towns and villages in England, the streets are narrow, giving it charm, but making it difficult to navigate.
     The weather continues to be warm and sunny!  People tell us how lucky we are to have this weather; we agree!
Day 13
     We briefly explored both Brampton and Haltwhistle, charming and historic. http://haltwhistle.org/  We then continued our Hadrian's Wall expedition!   Today we visited two castles, 2 forts, and a town. 
http://www.english-heritage.org.uk/daysout/properties/prudhoe-castle/
     Prudhoe Castle shows the evolution of a medieval castle to a renaissance one to an 18th century mansion!    It has been lived in continually since the 12th century.  http://www.english-heritage.org.uk/daysout/properties/prudhoe-castle/   Aydan Castle was wonderful, too!  The stone walls, gothic windows, wall tapestries, and long halls were engrossing.  We loved exploring the castle and the gardens!   
     The remains of Hadrian's Wall are still being excavated and so discoveries are being still made!  That's exciting!  It is such an amazing feeling, at Housesteads, to see and touch doorways, streets, walls, and gates that have been here for so long!  Baths, barracks, a hospital, chapel, and homes are there. http://www.english-heritage.org.uk/daysout/properties/housesteads-roman-fort-hadrians-wall/  Northumberland is a most enticing place.  
http://www.prudhoe.org/  http://www.visitnorthumberland.com/
Day 14
       A visit to Carlisle Castle in Cambria delivered all it promised!  The castle is imposing, with Carlisle surrounding it.  Mary, Queen of Scots, was imprisoned here in 1568 and often walked in the gardens with her ladies!  The Border Regiment Museum, also in the castle, was intriguing, tracing the history of the soldier from earliest times to the present.   The Jacobi Uprising had three battles here in 1745.  The castle is 900 years old, and the city of Carlisle has grown around it.   We enjoyed our hours here!  http://www.visitcumbria.com/car/carlcas.htm
Scotland
     The Highlands were calling, so we headed to Inverness, a long drive.  It was rainy and cold.  A lunch of veggie broth with barley really hit the spot!   On our way to our lodging, we stopped at two distilleries along the Whiskey Trail for tastings.   Fun, and educational, the Whiskey trail is world famous.  http://www.maltwhiskytrail.com/   Our destination was the Easter Dalziel Farm. http://www.easterdalzielfarm.co.uk/  This is a working farm, with sheep and Highland Cattle.  The house itself is rambling and comfortable, dating from the 1700s.   We were warmly greeted and given a cup of hot tea. The nearby town of Inverness has a Tesco supermarket, which we ambled through, noting similarities and differences with our own grocery stores. http://inverness-scotland.com/
 Day 15
     Today we are visiting Culloden battlefield, Cawdor Castle, and the Loch Ness area.  But first, a hearty Scottish breakfast of sausage, toast, eggs, and kippers.  I didn't much care for the kippers, too salty.   I did like the black pudding, or sausage.  It was much like the Slovenian kieska from my childhood.   The weather was exactly right for visiting the site of the last Jacobite battle, where the hopes for an independent Scotland were squelched once and for all in 1745.  It was dark, cold, and rainy.  The Visitor Center has a museum, for the first step of the visit.  Here is the history of the Battle of Culloden.  Out on the battlefield, markers helped us understand where the various groups were and how the battle unfolded.   The battle lasted only about an hour, but was very bloody!   Stone markers point to where the clan dead were buried and where the English were buried.  The stone farmhouse was there at the time, and has been restored.  If the walls could only talk!   The field was muddy, probably like on that long ago April day.  The countryside was peaceful, in contrast to that fateful day.  For anyone interested in Scots history, this is not to be missed.   Once we finished our tour, a nice hot cup of tea and a turn around the gift shop were in order.  http://www.nts.org.uk/Culloden/Home/
     It was early in the day, and our next stop was Cawdor Castle and Gardens.  The family still lives there. Both the house and gardens were elegant, but not excessive.  The furnishings are there to suit the family.  The estate began life as a fortress 600 years ago.  There are three fairy tale-like gardens where roses, holly, boxwood, and Scotland's national flower, thistles grow.  Unfortunately, the weather wasn't conducive to wandering for long.  http://www.cawdorcastle.com/index.cfm
    On to Ft. George, built by the British to insure that the Scots would never get a chance to rebel again.  http://www.undiscoveredscotland.co.uk/nairn/fortgeorge/  We were deep in the Highlands!   The weather improved. The fort houses the Regimental Museum of the Queen's Own Highlanders, was most remarkable, and gave us a more of a sense of the Scots.  The fort is situated on the shore of Moray Forth.  We walked around the fort, which is a functioning military base.  Soldiers were in many areas.  Earthen works are reinforced with stone walls.  Afterwards, we walked down to the water and tested the temperature.  Very cold!  The cold water increased my appetite, and this being Scotland, what better to try than the national dish of Scotland!  I wasn't too sure, but my first taste of haggis was delightful!  What is haggis?  Oatmeal, seasonings, sheep heart, and of course, whiskey.  Like a sausage or meat loaf.  Our server told us that it's prepared differently in different areas, and may not taste the same another time.  
     In Fort Augustus, we saw the swinging bridge in action when a boat passed by.  The whole bridge revolves to allow river traffic to pass.  We saw the locks in action, too.
     Loch Ness is one of the most famous lakes in the world, known for "Nessie." We drove around the lake, tested the water temperature, and looked in vain for Nessie to appear.  The scenery is breathtaking:  rocky and rugged with deep forests!  The water is so clear, and so deep.  There's almost a magical air about the lake.  By the way, Loch Ness means Lake Ness.  http://www.lochness.com/   On the shore is the marvelous ruin of Urquhart Castle.  A huge catapult sits near the entrance.   We were able to climb the stairs, walk around, enjoy the views of the loch, and really explore!  A chapel, dovecote, gatehouse, and keep are some of what we saw.   What a romantic site!  A visitor center is on the grounds with café and exciting displays.  http://www.undiscoveredscotland.co.uk/drumnadrochit/urquhart/
     We were fascinated at how long the days were!  It was after 10:00 pm and we still had daylight and were in light again by 4:00 am!
Day 16
     Sadly and reluctantly, we leave the Highlands today and head gladly for Edinburg, via the Whiskey Trail.  We toured and sampled at four different distilleries, learning much!   One distillery was Dewar.  http://www.dewars.com/lda/   Their gardens were pretty.    Another was Glenkinchie Distillery.  http://www.discovering-distilleries.com/glenkinchie   Do you know the differences in taste between western and eastern Scotches?   We took our time, and put time between sips.  There are volumes of history along the trail.  Scotland is always associated with its whiskey.  Late in the afternoon, we arrived at our B and B in Griffin, and found we had a tower room.  Great views of the family gardens!  The house is elegant and spacious.  We ate a tasty supper at the Goglin Ha' in town.  The staff all came over to talk to the Americans.  I guess American tourists are rare.   When I asked for a beer, I was served a half pint because I'm a woman.  I think they were quite surprised when I drank it and then asked for a full one.  Tomorrow we see Edinburg!  It's pronounced "edinboro."
Day 17
     Our breakfast was served in the sunroom, with the flowers all around.  Then we took the train into town.   The city is old and handsome!   There is so much to see and do!  Houses crowd the streets.  The Royal Mile is a long walk from the castle past shops, pubs, restaurants, cemetery, until reaching the queen's summer residence,   Holyrood.   A piper stood on the corner, playing.  It's very exciting!  We had Cullen Skink or potato and haddock soup for lunch.  Yum!   http://www.edinburgh.org/  Edinburgh Castel is built on Edinburg rock, a hug hill overlooking the city.  What magnificent views!  It's quite the climb!  The castle is the essence of what a castle should be.  There are awesome rooms, windows, and furnishings.   We visited Queen Mary's chambers.  Little patches of garden were everywhere.  It's very windy.  There's a remarkable Scot's Highlander museum in the castle.  http://www.edinburghcastle.biz/
     We took a look at the Greyfriar's Bobby memorial.   It's a small statue of the famous dog.  http://www.historic-uk.com/HistoryUK/Scotland-History/GreyfriarsBob.htm
      At Holyrood, we went around the Abbey ruins and gardens.   The queen's silver jubilee silver contains 3,000 pieces.  We saw the dining room where state dinners are held, the grand staircase, and the gallery.  Impressive!  Would have been great to have met Queen Elizabeth herself but she wasn't in residence!  http://www.infobritain.co.uk/Holyrood_House.htm
     This had been an incredible day!  We'll always remember our travels!  Tomorrow we return to London.
Day 18
           On our way back, we came through the town of Bigger, where a parade was going on.  People were drifting by in costume and a band was playing.  The scenery was pretty all day, although the weather was wet and gloomy.  Tomorrow we return to America.  This is a trip we'll never forget!  We steeped ourselves in history, ate delectable food, learned local customs, and had an incredibly wonderful time.