Jensen Beach, FL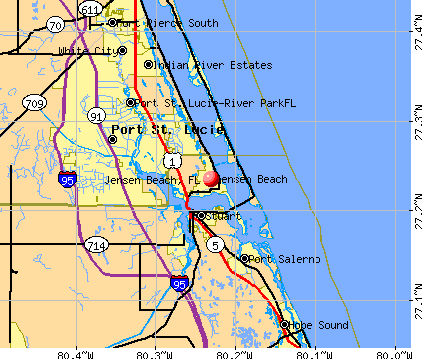 Jensen Beach
     Welcome to Jensen Beach, in Martin County, originally a pineapple plantation.  Did you know that once, Jensen was the "pineapple capital of the world?"   Today, Jensen Beach is an old Florida beach town, on the banks of the Indian River Lagoon and the Atlantic Ocean.  It has bright colors, old Florida homes, palms, and a laid back feeling.  Restaurants, pubs, shopping, a science center, art galleries, and water sports treat the Jensen visitor! http://www.jensenbeach.com/
http://www.jensenbeachchamber.biz/
     A good breakfast choice is Dena's, offering good food, Indian River views, and an eclectic décor.  Try their pancakes or breakfast potatoes.  Kona's Beach Café, Crawdaddy's and Mulligan's offer great food and great atmosphere. Kona's looks like it's been here for generations, and is a fun stop for a tasty meal or a cold drink,   Crawdaddy's is a bit of N'awlins.  You'll see the giant crawfish out front!    Mulligan's is a piece of the beach. http://mulligansrestaurant.net/  
     Stained glass, paintings, hammocks, wind chimes, and quilts are some of the items that beckon. The Environmental Studies Center has a touch tank, lots of fish, a shark, a butterfly garden, a loggerhead turtle, and an alligator.  They hold classes for the students of Martin County. In the touch tank, pick up starfish or horseshoe crabs.  If you visit, have photo I. D.  because of the students who may be on campus.  http://www.insideflorida.com/detail/environmental-studies-center
     A short drive to Indian Riverside Park brings the visitor to a children's museum, interactive fountain, maritime museum, beach, gardens, and the Mansion of Tuckahoe.  The mansion was built in 1936 by the Leach family.  Tuckahoe means "welcome."  It's built on an Ais midden, giving the mansion amazing views of the lagoon!  It's available for events.  The children's museum is brimming with creative play opportunities.  The Maritime and Classic Boat Museum has five galleries containing both full sized boats and models spanning centuries.   We enjoyed learning some of the history of many types of vessels.  An Evinrude room offers hands-on experience.  Did you know that a wish for ice cream inspired Evenrude to invent the first motor boat?  A full library is on the premises, too.  Jasmine Leach, on duty, was helpful, knowledgeable, and friendly.  http://www.mcbmfl.org/
      The Dolphin Bar, nearby, was once under the ownership of Frances Langford, star of the 1940's and 50's.  It's a local favorite!  http://dolphinbar.com/
     Drive on some of the side streets to see some original Jensen Beach cottages.  Imagine Jensen when the quaint buildings were new!
     For fresh fish to take home and prepare, or for a delicious sit down meal, try the New England Fish Market.  They have clambakes!  http://newenglandfish.net/
     Once you've had enough shopping, eating, and sightseeing, head for Sea Turtle Beach, just across the causeway!     There is a snack bar, restrooms, showers, and lifeguards.  There is also a cabana-beach chair rental available.   People come to swim, walk, jog, fish, and sunbath, but it's rarely crowded! 
     If canoeing or kayaking is what you're looking for, Periwinkle rentals are back on the mainland, just south of the causeway.  Being on the Indian River Lagoon can be tranquil if you stay near the shore.  Further toward the middle, it can be more exciting when the waves rock the boat and the big boats speed by!  The mullet were jumping when we were out, and it was windy!  We had fun!  http://periwinkleebr.com/
     A perfect end to a day in Jensen is to have dinner at 11 Maple Street!  This is an extraordinary restaurant on Maple Street.  It's in a charming old house, and offers dining both inside in cozy rooms and outside in the gardens.  The service is excellent, the food is delectable, and the presentation is a piece of art!  We shared 6 small plates, rather than each order a dinner.  Each selection was served singly so we could enjoy each plate on its own.  We started with Thai Conch and Hiramasa Salad and a Blue Crab Cake on a Fried Green Tomato with Carrot Reduction.   Fabulous! Sautéed Maine Spotted Skatewing with Baja Bay Scallops, Tomato, Capers, and Olives in an Herb Buerre Blanca, and rare Seared Wahoo with tea Leaf Salad and Ponzu Aioli followed!  By now, we were both getting a little full.  The last course was Thai Style Braised Kurobuta Pork Ribs with Brown Basmati with Mango and an Elk and Black Truffle Slider with Fontina and Grilled Onion.  Each dish was a symphony of flavors, melting in our mouths.  They were almost too pretty to eat.  Almost!  We each enjoyed a glass of Pinot Blanc.  There was no room for desert, so maybe next time we'll stop by just for that!  Our delightful server, Denise, was a gracious hostess.  Of course, this is high end, but the total tab of $109 doesn't seem too high for the exquisite meal.  Small plate prices range from $8.95 to $21.95.   Dinners, from $38 to $46.  Menu changes frequently.  There is a small bar for those who only want a glass of wine or beer.  http://www.11maplestreet.net/
Part 2
     Jensen Beach is a charming destination, whether for a day or more.  There are plenty of activities, restaurants, and shopping.   Once a month, on Thursdays evenings, Jammin' Jensen is there with crafts, music, and fun.  In the fall, the Pineapple Festival comes to town with entertainment, rides, games, and food.